Do you struggle with…
Addiction or Trauma?
Self-Destructive Patterns or Relationships?
Chronic Pain or Fatigue?
Are you ready to heal?
The GAUGE Your Life Method is designed to help you create a healthy, holistic lifestyle and manifest your deepest desires. 

The GAUGE Your Life Method
Based on 5 Universal Principles, this uniquely customizable Method empowers you to heal yourself.
We are here to guide, inspire and walk with you on your own journey.
GAUGE helps you RECOVER from the PAST
FREE Yourself from….
Grief, Anger, Shame
Stress, Anxiety, Low Self-Worth
HEAL Yourself from….
Addiction, Trauma, Depression
Chronic Pain, Illness, Dis-ease
RELEASE Yourself from….
Self-Sabotage, Suicidal Thoughts, Self-Destructive Behavior
Toxic Relationship Patterns, Heartbreak
GAUGE helps you EMBODY the PRESENT
GAUGE stands for 5 Universal Principles that hold the key to healing and transformation.
GRATITUDE – Generous appreciation for every thing that has / has not occurred to create here now.
AWARENESS – Accepting and Allowing present perceptions and knowledge.
UNITY – Unconditional Universal inclusion; Consciously creating collective connection.
GROWTH – Natural continual process/progress in motion.
ENERGY – Eternal essence of BE-ing.
GAUGE helps you ENHANCE the FUTURE
Take a moment – right NOW – to imagine yourself living a life where your deepest desires have all come to be.
Now, take a DEEP breath.
HOLD that vision and notice how you FEEL.
Hold on to that feeling.
Let it embody you – mind, body, spirit.
This is what your future holds.
The time to begin is always NOW.
What People Say
As a recovering alcoholic and highly sensitive person on the planet, I  feel blessed and thankful for the power and peace that practicing The GAUGE Your Life Method has offered and continues to offer to my daily life. Over the years since I learned about this Method, life has served up many challenges – and I have especially relied on the practices of GRATITUDE, AWARENESS and GROWTH during times of personal heartbreak and family struggles.  I return to the GAUGE Your Life philosophy and my ever-evolving understanding of it in all aspects of my life, physical, emotional, mental, financial – even sexual. This Method has helped me to heal myself from addiction and trauma  and realize my own power to experience wholeness, manifest happiness and tap into authentic well-being, no matter the external circumstance.
Chris is a caring, naturally gifted and intuitive healer. The Energy Healing Sessions I have had are amazing. Each time is different as he intuitively works his craft. It is obvious that he is meant to do this work; and he loves it. I highly recommend Healing Sessions with Chris.
"Very Grateful"
I recently started participating in the introduction to GAUGE and I am very happy to have found a method that helps me explore my current views and future goals. Chris Albaugh, instructor and developer of this method, has a wealth of experience teaching and offering seminars tailored to facilitate personal, career and spiritual development. Chris listens to the group and tailors each class to provide information that helps you create new opportunities and a more balanced lifestyle.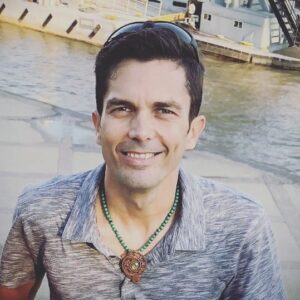 Hi, I am Chris Albaugh, Creator of the GAUGE Your LIFE Method and Founder of Enhancing Your World.
As an Intuitive Holistic Energy Healer, Ordained Minister, Spiritual Coach and Guide,  I help people to heal themselves. I offer the ability to be present and connect with unconditional love. My training and knowledge come from both ancient and modern teachings of Reiki, Tantra, Meditation, Cognitive Behavioral Therapy, Breathwork, Sound healing, Trauma Informed Coaching, Addiction Counseling, Herbalism, Supplemental Nutrition & Herbalism, and North/South American Shamanism as well as ongoing study and practice. 
I specialize in unifying the energies of mind, body and BE-ing, utilizing universal principles and integrating them into daily practices.The program I have developed is called The GAUGE Your Life Method and I would love to share it with you. I am also grateful to provide Intuitive Healing Sessions for individuals – it is an honor to witness the ripple effect of one person taking the time and doing the work to heals. My greatest desire is and always has been to help people. I can't wait to find out how I can walk with you.
To learn more about how we can enhance your holistic life and well-being together visit